Kevita Probiotic Drink Side Effects & Benefits
Kevita Probiotic drink is among the unique probiotic supplements sold, as it comes as a healthy drink rather than a capsule or tablet. The Kevita Master Brew Kombucha is a natural energy-boosting probiotic drink that contains millions of active cultures and live probiotics.
The product makes several claims about boosting energy and providing numerous health benefits. But because it's a drink, there will be side effects majorly associated with the stomach. These are bloating, vomiting, flatulence, nausea, among others.
The drink took the market by storm with its innovative flavors, easy to administer in the body, safe for any age group; kids, elderly, and pregnant women. However, there has been controversy here and there, mainly to do with their lawsuit. Read about these and much more in the preceding sections.
Known Side Effects
As a probiotic drink, there will be the usual side effects as per the Journal of General Internal Medicine, including nausea, bloating, vomiting, and the likes. However, other side effects are more specific. Their ingredients are quite high in sugar which can be an issue for those who are diabetic or are on strong sugar-free diets.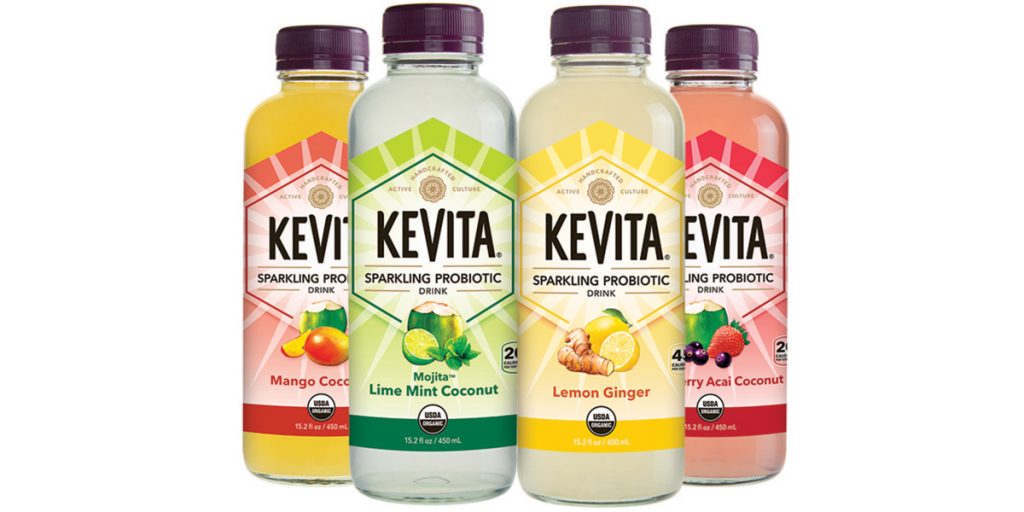 Moreover, they have different types of flavors that often cause allergic reactions for people who may not be aware of any allergens affecting them.
Despite that, there are some negative side effects of kombucha drinks in general. These include;
Excess calorie consumption – kombucha is high in calorie and energy hence the feeling of fullness everything you take it. This can cause rapid weight gain.
High sugar intake – as a sugar-sweetened beverage, it can increase your risk of diabetes, obesity, fatty liver, and heart disease.
It can promote the growth of opportunistic bacteria that leads to infections in certain people, especially immunocompromised or immunodeficient people.
Excess caffeine intake can cause habitual side effects such as addiction to stimulants.
Some cases have been reported of adverse health issues such as muscle and nerve weakness, cardiac arrests, hepatitis, inflammation of the heart muscle, and cutaneous anthrax of the skin.
Kevita Lawsuit
A major issue that arose with the drink was their lawsuit, commonly known as the Kevita Lawsuit.
KeVita, recently acquired by PepsiCo, was slammed with a class-action suit first reported by a woman at Ventura Superior Court in October 2017. The woman claimed their advert was misleading as the brand was lying to its consumers about how the drink was made. The advert was to lead its consumers to believe that the Kombucha drink was healthy and contained its natural probiotic cultures. Except the drink was pasteurized.
This meant in the process of KeVita pasteurizing its Master Brew line, it kills the naturally occurring bacteria and thereby deceiving the patronage who consumes it believing it to be a raw product.
The suit acknowledged that the drink was not a true kombucha drink but mixed and added probiotic cultures to raw drink after pasteurization meaning the product passed the organic process of fermentation and brewing.
During settlement, the company denied the charges but agreed to settle the case. Consumers who have purchased KeVita Master Brew Kombucha in the flavors stated in the class action lawsuit prior to and including September 16, 2020, and are living in the United States or any U.S. territories will be eligible for a refund
Why Kevita Can be a Good Probiotic Drink
First off, the lawsuit didn't affect the line of products but only the kombucha like which means the brand can still be trusted to produce quality probiotic drinks. Secondly, kevita comes in many flavors to cater to as many consumers as possible. The types include;
Lemon Ginger
Strawberry Acai Coconut
Cucumber Rosemary
Blueberry Cherry
Lemon Cayenne
Tangerine
Watermelon Rose
Mango Coconut
Mojita Lime Mint Coconut
Pomegranate
Third, the product has beneficial ingredients that are sure to boost your health. These ingredients are certified organic ingredients. The ingredients are;
Four probiotic species – Bacillus coagulans GBI-30 6086, L.paracasei, L.plantarum, L.rhamnosus
Sparkling water,
Water Kefir Culture – that's water, lactic acid, and Kefir
Apple Cider Vinegar
Lemon Extract
Cayenne Extract
Maple Extract*,
Stevia Leaf Extract*,
Lastly, the drink is non-GMO, gluten-free, and vegan.
Health Benefits of Kevita
As for all the probiotics, they help improve your digestive health by allowing for optimal function and preventing issues caused by bad bacteria such as gas and bloating, upset stomach, and diarrhea. They act as an inflammatory agent in the intestines and prevent gastrointestinal tract infections.
The Journal of Agriculture, Food, and Chemistry additionally claim kombucha to be packed with lots of vitamins, nutrients, and amino acids essentials for your body. Kevita has four other probiotic species which too have their benefits. They include;
Bacillus Coagulans GBI-30 6068
This is a soil-based bacteria that supports the gut and immune system. They help with the balance and maintenance of the health microbiome in the vagina and oral cavity.
Improves symptoms of irritable bowel syndrome such as diarrhea and abdominal pain.
Can improve bowel movement to ease constipation
It decreases inflammation in the gut
It can aid with respiratory tract infections
Decrease post-exertional muscle soreness
Lactobacillus Plantarum
Lactobacillus Plantarum continues to maintain the health of the gut and keep pathogens at bay.
Induces immune response against infections diseases and bacteria such as Candida Albicans and E. Coli
It helps to repair the intestinal lining using mannose-specific adhesions. This adds nutrients directly into the mucosal epithelium keeping it stronger.
It reduces brain inflammation
Lactobacillus Paracasei & Lactobacillus Rhamnosus
These two also have the same functions as the others; immune boosting, helps with digestion, and inflammation. Furthermore, Lactobacillus rhamnosus comes highly recommended for preventing and treating acute or rotavirus-related diarrhea in children and adults. Lactobacillus Paracasei can help to inhibit harmful pathogens such as Shigella dysenteriae, Staphylococcus aureus, Cronobacter sakazakii, Escherichia coli, and Candida albicans.
How Much Kevita Should I drink?
Because it's a drink, there aren't any prescriptions or dosages that one should take at a given time. However. One bottle of 16 ounces a day should be enough for the body. This amount releases over four billion CFUs of probiotic cultures into your body hence, it should be quite beneficial to you.
However, even with this recommendation, it's not unsafe to take more than one bottle. Probably four maximum also because of the high sugar content in the drink.
Sources
https://pubmed.ncbi.nlm.nih.gov/31554075/
https://www.healthline.com/nutrition/kombucha-side-effects
https://uaslabs.com/research/produra-bacillus-coagulans/
https://uaslabs.com/research/pplp-217/
https://www.poison.org/articles/2011-mar/kombucha-tea/
https://coachlevi.com/product-reviews/kevita-sparkling-probiotic-drink/
https://www.dietspotlight.com/kevita-review/
https://theprobioticsreview.com/kevita-probiotic-drink-review/